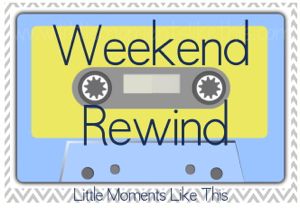 I'm linking up with my bloggy friend Tami today for the first edition of the Weekend Rewind. Like Tami, I love blogging about my weekends, even the ones where we do nothing big, so someday I can look back at how crazy/hectic/unglamorous life was. Ha!
So ... on Friday night, we did a whole lot of nothing! That morning, I woke up really early to hit some garage sales with my mom before work. It was totally worth it, though, as I spent around $70 but ended up with about six bags stuffed with clothes for my little Coopsicle. So I just showed them to hubby, and he proceeded to groan at all the ironing he'll be doing for our little pimp man. We ate tunafish sandwiches and creamy tomato soup and then caught up on the DVR.
Saturday morning, we woke up and I was about to get started on the dishes, seeing as all I'd washed since Wednesday night was pump parts, when my mom called. She was at a garage sale and the clothes were nice but pricey, so she wasn't sure what to do. So, Coop and I got cleaned up and dressed decently and went to meet her. We again had a lot of good finds, but not near as pricey :) Right now, I'd say we're pretty much set for the next year, unless Coop hits a major growth spurt or we have some crazy wacky weather.
I also got him a couple new toys, including this music-playing stacker. He loves it.
Once we got home, we had to get ready for a birthday party, and stop to pick up a present beforehand. (Gotta love my last-minute hubby!)
The party was a firehouse theme and the cake was too cute! We had butter pecan and it was delish. Poor little Coop, he kept reaching for his daddy's ice cream, and we wouldn't let him have any of it. He'll get real food soon enough :)
Afterwards, I met a couple girls to get some planning done on a sprinkle I am helping host later this summer and we picked up some fried chicken for supper. Fried chicken is one of hubby's favorites, but I refuse to cook it. Actually I tried, but it wasn't done and we ended up throwing it out.
Anyhow, after that I decided to get my clean on, and dedicated about an hour to the kitchen, while getting some laundry in the wash. Then, I worked on picking up the living room and folding the mountain of laundry - there were four loads in baskets before I started, and I swear, I was pretty much totally focused on laundry from 7-10:30 p.m., minus a nursing break and some media breaks :) I washed a ton of the clothes I got Cooper and ended up with two loads for him - and anyone with a little one knows how long it takes to do their itty bitty clothes!
We got up kinda early on Sunday, as hubby was going to get rid of some hay and haul it off to sell. While he was gone, I played with baby Coop, did more house cleaning & laundry, and made a cake ... because today is my mama's birthday! Happy birthday, Mom!!! For her birthday, we not only surprised her with the cake, but went to visit and planted her some flowers on the front porch.
And that's about it! By the time we got home, it was time to feed Coop and put him to bed, then watch Amazing Race. BTW, I was so upset Art and JJ weren't eliminated. I can't stand them or Vanessa and Ralph, which means at least one team I don't like will be in the finals.
Pin It