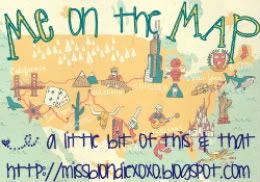 I almost forgot about this link up! Typical me to work on deadline and do it on the last day.
Anyhow, my blog friend Michelle (don't you love her name, haha!) is doing this cute "Me on the map" link up where you post about where you live. I LOVE the town where I work (and I live just outside of) so of course I wanted to post.
The place I call home is Sikeston, MO!
This is a town not only rich in history, but proud of its history! Several Civil War battles were fought nearby, and every spring there is a re-enactment. In 2010, Sikeston celebrated 150 years, and had several sesquicentennial bashes.
Have you heard of Lamberts? You know, the home of the 'throwed rolls?' Well, the first restaurant was built in Sikeston, and it was here that the first roll was thrown. I actually had one of those rolls today. Yum ...
There are a ton of parks here, and people who really love the town and want to make it a better place. One of the best examples of this is the Sikeston Jaycee Bootheel Rodeo, which is in August every year.
This is an amazing event that attracts people from all over, and makes a huge economic impact in our town. As it is organized and run strictly by volunteers, all the proceeds go back into the community.
I love being a Sikestonian and hope my post convinces y'all to come visit!