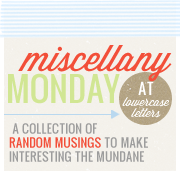 Hi guys! Remember me? Haha, totally didn't mean to take an almost two-week break from blogging. But like I mentioned a couple weeks ago, SEMO was pounded with rain, which led to flooding due to backed up ditches, rising waterways and more. So I was working my booty off and also keeping water away from the house. Which equals one tired woman. But now that everything has receded and I'm no longer swimming in all this (puns intended) I'm hopefully back to the blog :)
So, here are my thoughts on some of my fave TV shows right now:
— Amazing Race: LOVED the finale, but I wish Gary and Mallory had won. Or the cowboys (yup, a girl can wish!) I was OK with the team that won, and thanking heavens the Globetrotters did not. There's something about their attitude I don't like.
— Survivor: Is the season finale seriously less than a week away? This has been a great season, and now that it's down the the final five who have been pretty tight all along, it's getting really interesting. I really love Rob, so I hope he or Grant win.
— The Good Wife: Holy crap. Enough said. I can't wait to see how everything shakes out.
— Y&R/Bold and Beautiful: Um, definitely sweeps time. I can't wait to see what happens with Sharon, as well as Brooke/Thomas.
— Rules of Engagement: Totally cracking me up.
I'm really not sure how the national news has covered this, but you are probably aware that the Mississippi is HIGH. Well, due to the high stages, a floodway was activated in SEMO last week, to alleviate some of the water. Today, the same thing was set to happen in La. Anyhow, since I am a member of the media, I got to watch the first blast live. It was totally worth being in the freezing rain for two hours. Here's the AP photo. This was taken around 10 p.m. The boom was so big/loud it could be heard and felt up to 75 miles away in some areas!
it's finally warming up here. thank goodness. it hit 80 degrees yesterday. unfortunately it's supposed to be back down to highs in the 60s on thursday (very sad face) but i'm taking advantage of this nice weather as much as I can.
I bought azaleas three weeks ago and they are still in the pots. And what little was planted in the garden in ruined after all the rain. So I'm hoping to get a lot of that work done soon!
due to all the rain and flooding, my mom and i didn't have our garage sale last week :( so now it's looking like june. I've got to have one soon, because I have a ton of

junk

treasures to get rid of. i'm thinking of pricing things SUPER cheap just to get rid of them.
OK, that should catch you up on my life :) While I've been glancing at your blogs, I haven't been the best blog buddy, but I hope get back into regular reading/comments this week, too.