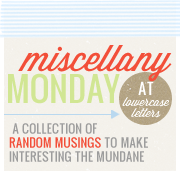 It's been awhile since I've participated in miscellany monday but all I've got is randomocities today, so here goes.
is it just me, or do the weekends just keep getting shorter and shorter? i cannot believe that it's already monday. What's more, I can't believe that I'm beginning the fourth week at my job. time really does fly.
as the rodeo was still in town, that consumed a lot of our time. friday afternoon, i went home and napped and we planned to go to the rodeo for a bit that night (we had passes, not tickets, so it makes no impact on our wallet whether we go). well, by the time J got out of the shower, it was rumbling and the sky opened up about a half hour later! so we stayed home and had a movie night instead :)
that night, the president of the college informed me he was planning to be in the rodeo parade saturday morning and he wanted me to take pictures. we weren't planning to go, but headed out. hey, i'm trying to get a bit of a paid maternity leave, ha! it was actually BEAUTIFUL weather so we also went to the little festival afterwards. we had amazing barbecue and kettle corn. yes, i am addicting Baby R to kettle corn while in utero. don't judge.
saturday afternoon, i napped to get rested up for the rodeo that night. rodney atkins was the featured performer and i didn't want to miss it! we got to stand right behind the stage, in the chutes, to watch the concert.
we have such a great group of friends back there and every time i turned someone was making sure i didn't need a water, help getting down, or anything like that. in fact, i rode in on the tractor pulling the stage, and my friend in there promised that next year Baby Tuff and I can ride with him again. so sweet! we stayed out until about 2 a.m. pretty late for this mama! yesterday, we did a lot of work around the house and outside. have to get ready for baby!
i'm seriously in the dumps when it comes to cooking. poor jimmy, i barely cook a "real" meal anymore ... mostly because it sorta nauseates me to cook and i just don't have the energy. i've realized i probably need to start menu planning again but don't feel inspired. so will you all share a favorite recipe with me? keep it easy, please, but i just need to shake things up. oh, and we don't like onions, peppers or mushrooms, so make sure it doesn't have those ingredients or they can be omitted.
i'm also trying to clean out the deep freeze in the next couple of months, so i can do a big batch of freezer cooking in october to prepare for the baby.
i realized how crazy i am for getting married and starting a job while pregnant. there are not enough hours in the day. our wedding list is pretty much wrapped up, but we haven't made a dent on baby. first off we need to finish registering. then i need to get the list and addresses for everyone i want to invite to my two showers compiled. considering i am compiling lists for work right now in a major way, that's just not something i want to do when i get home!
so what are my fellow BB fans thinking about this season? i'm actually kinda bored with it. i'd want dani to win if i didn't hate her. i love jeff and jordan but don't think they've had to really play the game so far. i have no idea where anything is going this season ...
any 2.5 men fans out there? are you watching with ashton? i can't decide if i want to. i really do want to see how they write out charlie and introduce the new character though, so i guess i'll watch a few and see where it leads.
i'm also excited about rules of engagement, hawaii five-O, criminal minds, himym and the mentalist. i just love the beginning of the season.
J and i are still coming up with possible baby names. one of our criteria is that we want it to be a "normal" name that's not used a lot. for instance, my niece's name is natalie. not super popular, but a traditional name she can grow into. plus, it's appropriate for a child and an adult. we also want to make sure our kid doesn't have to go by a last initial. well, one of our boy names was reid. (yes, after spencer reed on criminal minds!) anyhow, last week we learned a couple that's due later this month, whose son will go to the same school as our kid, is using that name. rats! we haven't really been sharing our names for that reason. so either it's total coincidence, or j's loud-mouth sister-in-law told. either way, my baby names are really under lock and key now. luckily, we've been leaning toward using reid as a middle name here lately anyhow, so it wasn't total torture. our other two boy names begin with a c :)
i think that's it for today. hope you all had a great weekend!