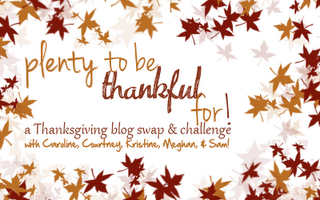 Oh hey guys. How are you doing?
I've been really behind on things. A million things going on and through my mind. So much that I forgot to put on makeup this morning. Whoops.
But I haven't forgotten this little linkup. Wednesday's topic was about why we are thankful for our hometown. Last year, I wrote a "me on the map" post, so to be lazy, I'm just going to link it HERE. I LOVE being a Sikestonian :) And my new job working in development makes me even more proud, since I feel I am making a positive impact in trying to grow the community through education, bringing in new jobs, etc.
Today's linkup topic is why we are thankful for the Blogosphere. I have to say I have made some of the best friends through blogging, and learned so much about other places, who I am, pregnancy, childcare, new products and more. When I started this blog about two years ago, we were in the process of buying our first home and I wanted to journal our feelings on that, plus document the befores and afters. I still share home projects (which are few and far between) but I've also used this as a way to post my random thoughts, details on our wedding, pregnancy and more. Someday, I know I'm going to love being able to look back at this all, and I plan to make a book. I'm sure that as Baby R grows, I'll pull excerpts from the blog to use in his/her baby book and photo books. I'll also use y'all to answer my questions.
I blog for myself - in fact, I don't think many people I know IRL are aware I have a blog. But it is nice to have those blog buddies who are there to support you, give you advice, rally around you, and also share details of their life. I LOVE every email conversation I have with my blog friends.