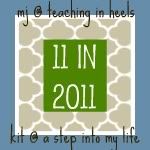 I'm back for day five! Places I want to go this year ...
Washington, DC!
I guess technically Alexandria, Va. One of my besties moved there is October (I miss you, Bella!) and I can't wait to go out and see her! I have only been to DC once, on a 4-H trip in high school, and J has never been.
Fingers crossed, we'll drive out one weekend, maybe stop on the way, and spend the week in DC. Since we'll have a place to stay, that cuts out a huge expense, and we can see the sights while B is at work, and spend time with her in the evenings. Perfect!
My No. 2 place to go is the beach. Any beach.
I'm not sure if this will happen, however. Although DC should be reasonable, I have a good friend getting married, we have some bills to pay off and our wedding to save for, so we'll just have to see how the cash flow is...